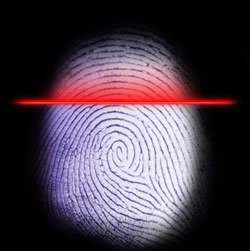 THe password was created for computer-sharing in the 60s, since then it has been an effective way to protect data and provide different features, security clearance,and accessibility for multiple users using one computer, device or database. All this is about to change with the increasing number of devices introducing biometrics as a way of gaining access to devices.
Earlier this week Samsung introduced a fingerprint reader with the flagship mobile device Samsung Galaxy S5. Before that Apple introduced a fingerprint reader on their iPhone 5S and called it Touch ID. Recently more companies have hinted totally removing the password in place of a finger print authentication process. Some of these companies include: Paypal, Google, and Samsung. These are some of the worlds most powerful companies in terms of technology. If these companies made the move to fingerprint identification surely the rest of the tech-world would follow with no hesitation. 
Paypal is planning on allowing you to use your fingerprint to access your bank account, make payments, as well as send money to people. This would be a welcome development with the recent cyber attacks going on. Password protection has been vulnerable in recent years with hackers managing to infiltrate systems and decypher peoples password leaving them vulnerable to fraud and giving infiltrators access to sensitive data.The most recently was the 'heartbleed' scenario were more than half of the internet was left vulnerable to hackers who gained access to multiple user passwords using a bug in the SSL.
The future is near, and soon no one will be typing in passwords to gain access to information. They would use their fingerprints or even their Iris. 
- Kole
Tweet
Follow @zoneDrak